So...i guess welcome to my profile or something...dunno why'd you look at it, but ok!
so i've written a couple of parts here and there, nothing extra spectacular or big like PSQuasar or Enderdude2002. but, i've done my little fair share of contributions lately.
I write stories and stuff. Not that great of an artist, but i guess i can say i am a pretty good writer.
I am currently working on this huge project, that is (at the moment) being worked on all by myself, and for right now, it just goes by the name of JojoFanN's Universe, Similar to those such as PSQuasars Universe. It'll have all of my stories, characters, and stands all wrapped into one, neat and tight package, with a timeline and stuff as well. If anyone would like to join me in the production of this massive work, feel free to ask me on my message wall.
Until then, Ciao! c: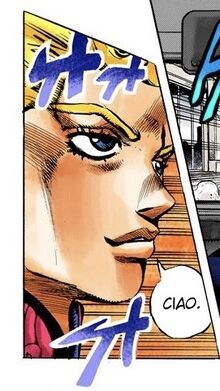 My Stories (More will be added as I finish them c: )
some miscellaneous stuff i doubt anybody would wanna know
My favorite canon stand has gotta be C-Moon. i just really like it's design and ability, and Pucci is one of my favorites main antagonists.
My favorite stand I've made is a tie between Monk's Mood, and King Pain. I like main antagonist stands alot, and the thought of messing with time, belonging to such the wrong person, is a very cool concept!
My Favorite Stand belonging to another fanon user is a tie between Black Hole Sun, and Miracle. I enjoy both of their designs, and their abilities are really cool.
Community content is available under
CC-BY-SA
unless otherwise noted.